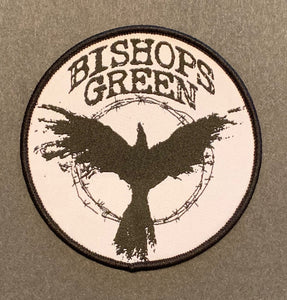 Bishops Green "Crow" - 3" Inch Screen Print Patch
Warm and cuddly and beautifully graphic. This is the perfect description for this 3 inch screen printed patch. Created in Vancouver, British Columbia with material of very different textures adds to the interest of this patch.
The addition of a triple border is unusual for a patch of this era and actually the only one ever created. The main body of the patch was created using 12 blocks with 15" sides and then adding a 6" triple border on two sides and a smaller border top and bottom. This patch is bound with a 3/8" synthetic fabric and top tied with black material. The backing is an exquisite 19th century paisley black. The deep rich colours create a very sophisticated presentation.
In perfect unused condition, ready for you to either sew on to your everyday streetwear, mount on your fridge as an art piece, or be used as a book mark.