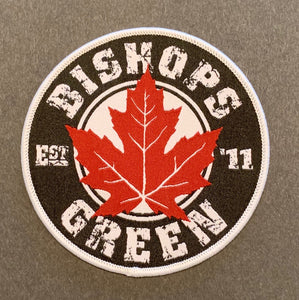 Bishops Green " Red Leaf " - 3 Inch Screen Print Patch

This sweet little number is usually only found in historic books, museums or antique homes that one would tour....
This extraordinary and rare screen printed patch is quite possibly 200 years old. Because of the age, one can understand why there are so few of these in existence. Printed on a very fine fabric; the handwork is breathtakingly beautiful.
The body of the spread is in perfect condition. The seams are joined with a running back stitch which is so tiny that at first glance it appears to be done on a sewing machine. Early hand work such as this was never meant to come apart...hence the running back stitch that can easily be mistaken for machine work.
It it not uncommon for purchasers to use a magnifying glass to verify this stitch! lol!
Interesting point! It has been speculated that this incredible patch was possibly made some 30 years prior to the invention of the sewing machine!